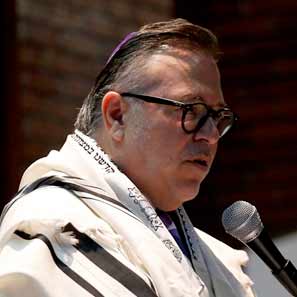 Rabbi Jack Zanerhaft was born in Queens and raised in Brooklyn. He is the son of two Holocaust survivor parents, who came to New York in 1949, after being liberated from Aushwitz and waiting in a Red Cross Displaced Persons Camp in Rome, Italy, for three years for their visas. Rabbi Jack's Jewish and Rabbinic education took place at Yeshiva Rabbi Chaim Berlin, and its prestigious Kollel Gur Aryeh. He received additional Rabbinic training at the Shalom Hartman Institute in Jerusalem, Israel. Rabbi Zanerhaft received his B.A. with honors from Brooklyn College, CUNY and a Juris Doctorate in law from the Vermont Law School. He moved to Oklahoma where he was an Assistant District Attorney, and Adjunct Professor of Law at the University of Tulsa College of Law, as well as filling in as Rabbi for Congregation B'nai Emurah. Rabbi Jack was selected as the first Rabbi for Congregation Etz Chaim in Bentonville, Arkansas, in addition to being visiting Rabbi for United Hebrew Congregation in Fort Smith.
Rabbi's philosophy and commitment is to make Temple Emanu-El a center of excitement, energy and enthusiasm for all those who want to connect to the heritage and traditions of Jewish life: Torah study, celebration, social activism and spirituality. Rabbi Zanerhaft brings an atmosphere of warmth, acceptance, inclusion and a sense of community ready to engage all of us to become the signature address for betterment and positive transformation for the Jewish and wider Long Beach community.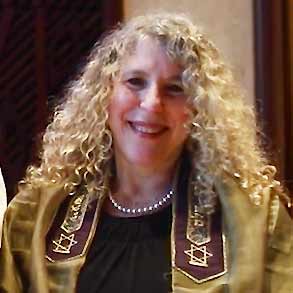 Cantor Lisa Klinger-Kantor has been serving as Cantor at Temple Emanu-El in Long Beach since 2012. Previously, she served for 14 years at Temple Shaarei Shalom in Bellmore. Cantor Lisa Klinger-Kantor is also Dean of Admissions at the Academy for Jewish Religion where she was ordained. In addition, Cantor Lisa teaches nusach at AJR, and she received the P'Nei Torah Faculty Award in 2007. She has an extensive voice practice, teaching the art of singing and davenning to Cantors and Rabbis.
Cantor Lisa pursued her music studies at the Manes College of Music majoring in Performance of Voice. Later, she earned her Masters degree in Voice from New York University, graduating Phi Beta Kappa. She then performed lieder and oratorio in prominent concert halls. She has continued her career as a soloist, honoring the memory of her son Mat-thew, bringing the beauty of cantorial music to concert venues, including Alice Tully Hall, Weil Hall and Merkin Hall in NY.