A Contemporary Reform Congregation
We are a contemporary Reform Congregation devoted to the the enhancement and preservation of Jewish life.
Inclusivity is the foundation of the congregation. We welcome people  of all faiths,  gender identification and race.  This synagogue has a congenial, warm atmosphere that offers  friendship and spiritual enlightenment to all.
We offer a variety of educational, social, and cultural programs – with the opportunity for everyone to become involved.

Shabbat Services
In person Shabbat Services at Temple Emanu-El of Long Beach are on Friday nights at 7:30 pm. Shabbat services include a blend of Hebrew and English built on tradition and innovation. Rabbi's sermons challenge us weekly and Cantor's musicality adds an immeasurable dimension of spirituality.
Services are now being held in person at the Temple and on Zoom.
Saturday Torah Classes
 All are welcome to continue the observance of Shabbat by joining the Rabbi's Weekly Torah Class –
A Taste of Torah is held on Saturday mornings at 10:30 a.m.
Class is now being held in person at the Temple and on Zoom.

Holiday Services
Temple Emanu-El has beautiful sanctuary programs to celebrate holidays and festivals throughout the year.
This includes Rosh Hashanah, Yom Kippur, Sukkot, Purim, Passover and more. We welcome the members of our
congregation and the greater community to help us observe these special days.
Every summer we look forward to Shabbat on the beach.
We meet  on the sand at Neptune Boulevard for a family friendly Shabbat service with the ocean and the sky as our sanctuary.
The cool sand, crashing waves…  sea air, new friends, a perfect Shabbat.
Bring a chair or blanket, we'll bring the challah.
According to the Creation narrative in Genesis, animals were placed on Earth before humankind to teach us that they are to be treated with reverence. The story of Noah's ark reminds us that the Almighty wanted to save all of the four legged creatures of the world even as the human population was to be replaced by a new generation. Our pets receive an annual blessing in a fun and meaningful ceremony. A most popular event on the Temple's calendar.
Every June, corresponding to the official celebration of Pride weekend, we come together on a Friday night to pray with Pride. For too long organized religion has shunned the LGBTQ community. At Emanu-El we strongly believe every person should have a place to worship, celebrate holidays, learn about their heritage and most importantly belong to a warm, embracing community where everyone is comfortable to be who they are and feel they are part of something bigger than themselves.
In February, in recognition of Black History Month, we acknowledge our African-American friends and neighbors by honoring the moment with our annual Gospel Shabbat. We invite a special guest speaker and the Nehemiah Movement, an a capella Gospel group, to join us during a Friday night service in February.  With guest speakers, Gospel music, and sharing desserts at the Oneg we just don't preach about inclusion and equality –  we live it. Throughout the year we not only build bridges to all demographics but we walk across those bridges hand in hand.
Innovative and interactive services provide meaning and deep spirituality. We host Latino Shabbat, and MLK Shabbat every year. In addition we recently dedicated a Shabbat service to Ethiopian Jewry. As music is an important component of our worship experience we periodically come together in joy for different themed Shabbats. We host a wide variety of beautiful Shabbat services throughout the year.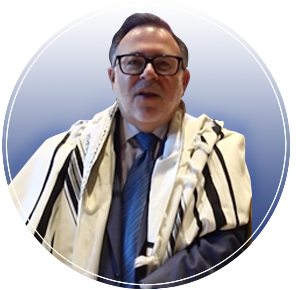 Rabbi Jack has a true commitment to make Temple Emanu-El a center for enthusiastic connection to the heritage and traditions of Jewish life. Rabbi inspires an atmosphere of warm inclusion to engage the congregation in spiritual and social activity. He is committed to making Temple Emanu-El the center of non-orthodox Judaism serving the greater Long Beach community.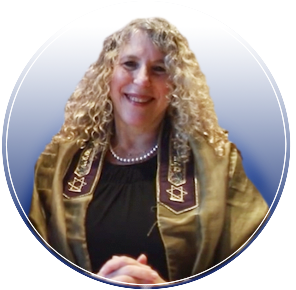 Cantor Lisa has been serving as Cantor at Temple Emanu-El of Long Beach since 2012. Cantor is also a Dean of Admissions and teacher at the Academy for Jewish Religion and has an extensive voice practice, teaching the art of singing and davening to Cantors and Rabbis. Cantor also teaches our B'Nai Mitzvah students, her spirituality and voice enhancing our services. Cantor also teaches our B'Nai Mitzvah students; her spirituality and voice enhances our services.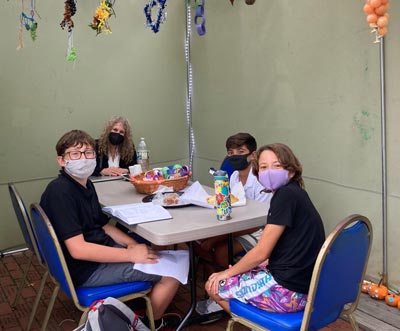 The philosophy of our Religious School is to provide an environment for our students to participate in Judaic and Hebrew studies, as well as to learn about their
heritage and culture.
Parents play an important role in a child's religious education. Our goal is to work together with our religious school families to help their child's education to be meaningful.
The Temple Emanu-El school program will be your child's home away from home, filled with love and learning.